Top 11 English Grammar Resources Online
Top 11 English Grammar Resources Online
Learning English grammar can be overwhelming, which is why we've compiled the Top 9 English grammar resources that you can find online.
We get it━grammar can be tricky. Maybe your teacher is boring, or English has never been your strong suit. Luckily for you, it's ours, and we're sharing the best online grammar resources we've found to-date. Take things at your own pace. There are no tests at the end (promise!).
Online Grammar Resources
Like most anything, there are an abundance of grammar websites, some of which are really valuable and some of which are hot garbage. Don't worry, though━this article will guide you through only the best grammar websites and grammar resources the World Wide Web has to offer. Get ready for your English grammar skills to be sharpened.
Polish your writing and ensure that it is error-free
Get started today! Write any sentence or paragraph using the best AI writing platform.
Start Writing with QuillBot
Learn Grammar Online
Let's start with the basics. Whether you need a quick refresher course, or you're just starting out on your English language journey, these sites will be infinitely helpful for trying to learn English grammar rules. Grammar learning websites are usually teeming with information, so really take your time to understand the value that each resource can give to you.
British Council: Learn English Online
The British Council has helped over 100 million people learn English in just 75 years. Their website is easy to use and pleasant to look at (both rare aspects for a grammar learning website), and allows users to take a test to determine what level their English is at and what courses they should take moving forward.
Each course level is broken up into several mini lessons that cover different topics, such as prepositions, conditionals, and participle clauses (to name a very select few). Each mini lesson gives a thorough explanation of the given topic, provides exercises, and ends with a quiz. Users can also leave questions in the comments sections that will be answered by those on the Learn English team.
My English Pages
My English Page's English grammar reference lessons are plentiful. The site contains a long list of clickable grammar topics. Once a user clicks on a particular topic, not only will they get the basic information on the topic, but they will receive a list of related pages on the site as well as "awesome links" that will both delight and educate the user. The site is no-frills, but they are straightforward and offer a newsletter to those who sign up with their email.
Quick and Dirty Tips' Grammar Girl
Grammar Girl is a really unique grammar learning website that balances curiosity, playfulness, and education really well (in fact, it was named one of Writer's Digest's 101 best websites for writers, multiple times). The articles cover topics that are less "basic" than most other English grammar sites cover, but that are still just as important to understand for those who want to speak English with any level of fluency. They include things like "When to Use 'Nor,'" "What Does It Mean to 'Put the Kibosh' on Something?," and "Capital vs. Capitol."
Grammar Girl also has an online podcast and a newsletter filled with tips on grammar, the English language, and writing in general. The range of information is large, and covers simpler ideas as well as the more complex nuances of the English language.
Purdue Writing Lab
That's right━the Purdue Writing Lab isn't just a resource to learn MLA format. It has dozens of English grammar resources and exercises designed to get you information quickly and efficiently. Their explanations are thorough and no-frills, ensuring you understand each concept before moving on.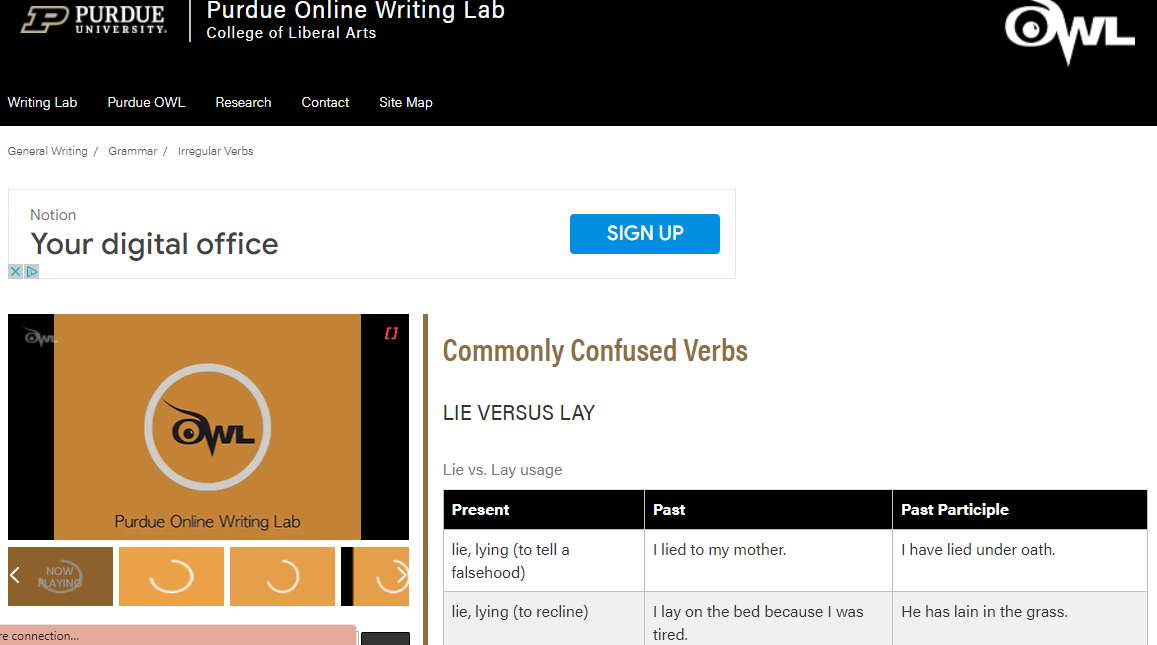 Practice Grammar Online
Yes, practice really does make perfect. Unfortunately, you're going to have to work for what you want. But with the right grammar practice websites, learning can actually be fun and rewarding. Daily grammar practice will lead to improved confidence and skill when reading, writing, and speaking, so don't neglect these exercises and stay on top of your grammar game.
EnglishClub
This is hands-down one of the best resources in this article. EnglishClub is awesome because it has so many unique, interactive features. Users can make their own page with blogs, photos, videos, and music, and can add friends and create groups to learn with. By personalizing their own pages, users can get enthusiastic about using the English language to express themselves and their interests, and can make friends via the chat and groups features.
In addition to the personalized pages, users can play grammar games, take quizzes, download study guides, and even find penpals and schools that will teach English at home or abroad. There are so many diverse grammar resources on this website, and it is work exploring for sure.
Grammar Bytes!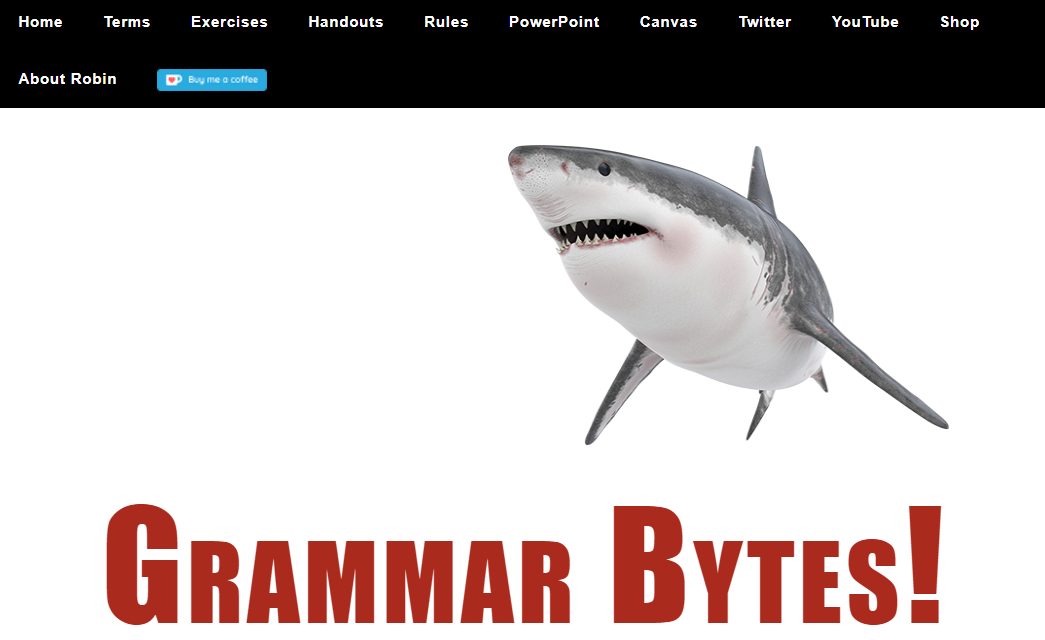 Grammar Bytes isn't like other English grammar websites, it's a fun English grammar website. Its witty tone, Twitter "workouts," and YouTube channel make it an interactive brand that's perfect for the younger crowd. By using different social media platforms, it ensures that everyone who visits their site can utilize the best learning method for them. Plus, who doesn't love a fun mascot?
Perfect English Grammar
Perfect English Grammar's grammar exercises are straightforward and plentiful. There are dozens of grammar topics that each have a variety of mini lessons for users to practice with. Each mini lesson provides a review, in case users need to brush up before they start answering questions, and there are worksheets in addition to the online quizzes available. This site is great for those who want direct, uncomplicated practice.
Test Guide
The English grammar practice tests on Test Guide are great for brushing up on some basic rules of grammar, but the best thing about Test Guide's site is its resources section. It lists some of the best grammar practice websites that are approved through Test Guide's standards, so users have a lot of reliable options to browse through all in one spot. What works for one person may not work for the next, so it's nice to have a list of different exercises and websites to try out.
Improve Grammar Online
Once you've mastered the basics, it's time to dive into the more complicated stuff. Hey, the only way to improve grammar is to challenge yourself with higher-level lessons; luckily, these next few websites make it a relatively painless process. After using these grammar improvement websites, you'll be using English grammar rules like a native speaker.
💡
Need help with using English Grammar rules?
QuillBot's Grammar Checker is here to assist you with that!
BBC's Learning English
Who better to learn from than the trustworthy BBC? After all, they have been "inspiring language learning since 1943." Their Advanced Grammar Reference page is great because it includes a lot of different materials to work with. It has 30 grammar guides, an audio grammar series, 6 Minute Grammar lessons that range from basic to upper intermediate, and a podcast series that teaches everything from basic grammar to advanced grammar.
The guides are thorough and easy to understand. The BBC communicates in a very straightforward manner, with basic language and clear instructions. They include practice options at the end of every lesson so users can get the advanced rules down pat.
English at Home
Buckle up, because things are about to get advanced. English at Home boasts over 120 English grammar lessons, and they range from simple concepts to intricacies of the English language. Besides the usual writing and reading exercises, they have speaking lessons as well, to really round out users' knowledge.
Some of the more advanced topics include "Phrases for Business Letters and Emails," "Write a CV: How to Use Powerful Verbs," and "Common Verb-Noun Collocations in English." To really improve your English, learning how to communicate in specific situations is a must; these lessons really help in that aspect.
Learning American English Online
This website has its lessons broken up into levels, and each level is represented by a color. It begins at the Blue Level (Level One) and ends at the Violet Level (Level Seven). The Violet Level covers specific word usage, such as "nevertheless," "consequently," and "as long as." Each level has a number of quizzes to test new knowledge.
Learning American English Online is great because it also has a number of video lessons for those who prefer a more audio/visual component to their learning. They are organized in an easy-to-use manner, and each video is about 5-10 minutes long. There is also a chat room for users to practice their English with others.
Final Thoughts
It can be overwhelming to know where to start with the vastness of English grammar, but hopefully these sites have provided some direction for you. Different grammar websites provide different things, and a wide variety have been shared with you here, so no matter your learning preferences, at least one of these English grammar websites should provide you with the practice and help you're looking for. Happy learning!